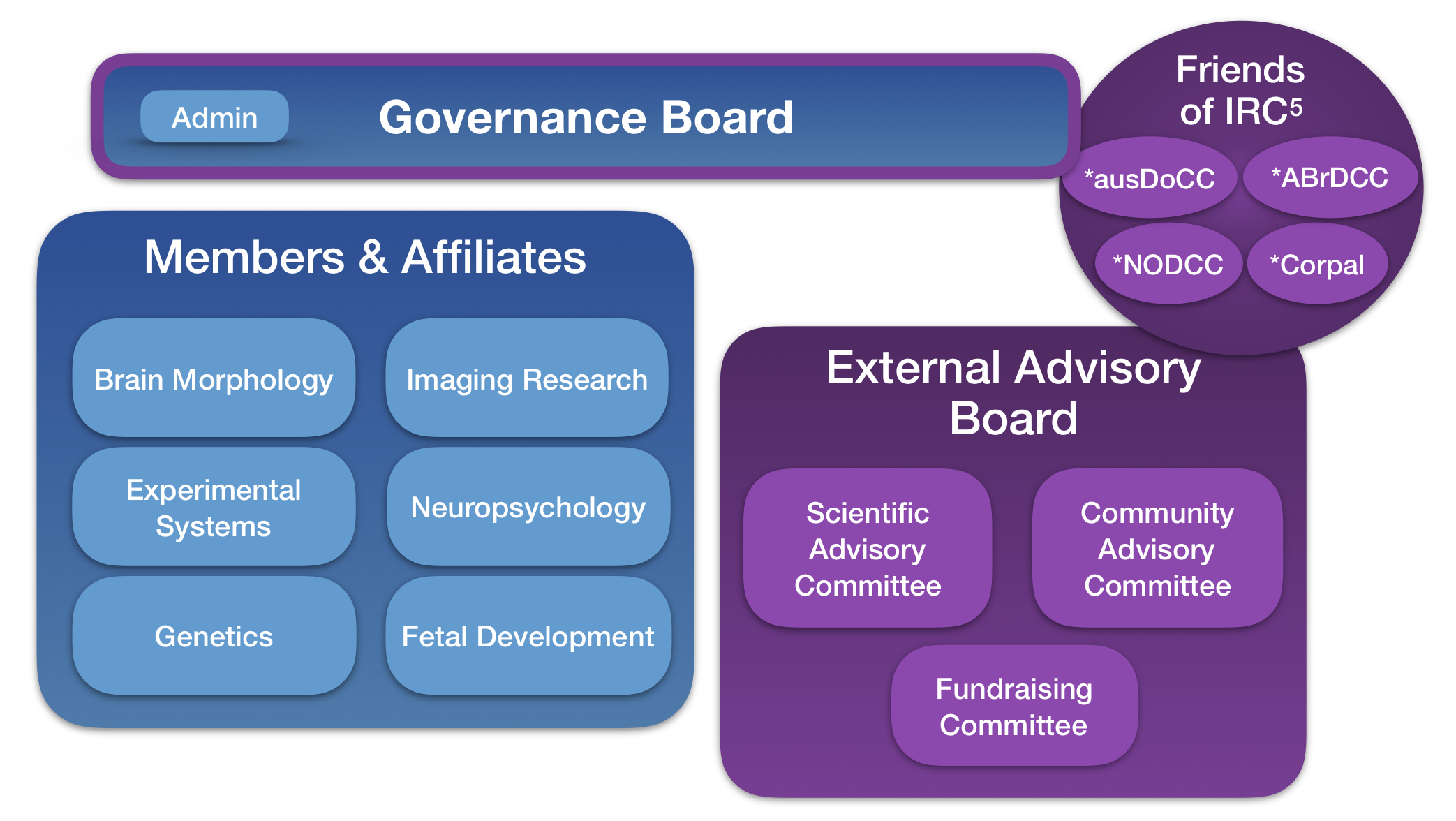 Governance Board (Directors)
a group of consortium members who are responsible for overseeing organizational business on behalf of all members.
*Consortium Researchers / Members

established and independent scientists actively participating in the research endeavors/activities of the IRC5. A consortium member contributes substantive data, resources or expertise and regularly contributes to the IRC5 shared database and to the activities of one or more working groups. Consortium members can invite their affiliates to participate in working group activities as appropriate.  Consortium members are expected to attend the IRC5 annual meeting in person (at least once every three years).  Consortium members will have access to the inventory of all data available in the IRC5 consortium database.
individuals who contribute to the IRC5 but are not yet consortium members. They include staff and students of consortium members and associated scientists, clinicians and allied health researchers.  Affiliates may engage in some or all of the following activities: participate in a working group, contribute data, research participants; clinical or scientific expertise, other resources important for IRC5.
a group of individuals who provide professional assistance and advice for organizational and scientific pursuits of IRC5.  Includes 3 committees:
Scientific Advisory Committee – Expert scientists not members of IRC5
Consumer Advisory Committee – Includes people from areas of clinical and professional care of effected individuals, patient groups and industry partners.  A representative from each family organization.
Fundraising Committee – Individuals with professional expertise relevant to functions of the organization
a group of individuals who provide professional assistance and advice for organizational and scientific pursuits of IRC5.  Includes 3 committees:
Scientific Advisory Committee – Expert scientists not members of IRC5
Consumer Advisory Committee – Includes people from areas of clinical and professional care of effected individuals, patient groups and industry partners.  A representative from each family organization.
Fundraising Committee – Individuals with professional expertise relevant to functions of the organization